What People Are Saying about Cherry Bomb
---
Just wanted to extend my thank you again for the amazing job you did at our wedding. It was truly a perfect day. You guys were the biggest hit of the night, that's all everyone talked about for weeks after! Thank you for being so wonderful to work with and we truly appreciate your hard work. You made our day so fun and everything we had hoped for.
~ Lindsey and Matt Fredericksen, August 2012
---
Where can we even begin to thank you for making one of the best days of our lives so memorable? You guys truly made the party for our reception. That, coupled with the awesome set up at the Uptown Theater, was a fabulous combo! We have gotten and still continue to receive raving compliments on the awesome party and the amazing band playing!
~ Doctors Chris and Emily Hansen, July 2011
---
Just wanted to send a special note to tell you how great it was to have you at the wedding reception on Saturday night. I can't tell you how many many people told us that they had a wonderful time, and commented specifically about the band. You guys were super energetic, and just did a fantastic job! Of course, we loved the way you involved Jason and Ashley. (I didn't know either one of them was a showman!) They are honeymooning, so I haven't really talked to them, but I know from watching them that they just had a marvelous night. I know that the wedding will be a great memory, and you guys certainly were a big part of that!
~ Jody Adkisson, October 2010
---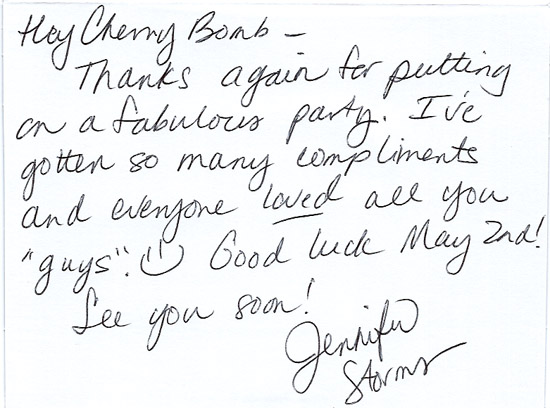 ~ A Thank You from the Kidney Foundation of Kansas City, 2008
---
Gene and Natalie and all of Cherry Bomb, we just wanted to say thank you so much for a fun, exciting, and memorable reception! Everyone had such an amazing time and that was thanks to all your hard work; I don't think the dance floor was empty all night! We received so many compliments about Cherry Bomb and we appreciate all your organization and entertainment. Bert and I are so glad we chose your band and we can't wait to do it again in a few months at my brother's wedding (and our friends cannot wait either).
~ Thanks again, Kellie and Bert Seefeldt, Aug 2009
---
Hi my new best friends!
Okay you know all the praise I gave you after the first wedding well, ditto,ditto,ditto,ditto. You guys are amazing. Let me know if you ever need a back-up dancer (haha).Thank you again for making the wedding so wonderful!

~Trish Lobb, Nov 2009
---
Hi Guys,
All of you are AWESOME!!!!!!!!! You put your heart and soul into every song and boy does it show.  Everyone had so much fun and was full of nothing but compliments.  My 50 year - old legs felt my fun the next day!  Thanks again for making our reception a success. See you in October. I can't wait to do it all again!
~ Trish Lobb, Aug 2009
---
Amy you guys ROCK saw you for the first time at Tanners in Platte City in NOV had a blast!!! I was curious to know if you will be posting pics from that event you took one of me and my friend and I was curious to see how it turned out!!
~ Valerie, December 2008
---
Thanks to all that came out to see Cherry Bomb.
If you came out last Friday you must be sore from dancing so much.
It's hard to find a more energetic band like the Bomb, but, wow!
It's been a long time since I've seen people sweat from dancing so much. But, was it ever fun. And the costume changes were perfect to highlight their songs.
~Manhattans Lounge in South Kansas City, April 2008
---
They were so great!!! I thought Natalie was awesome too. At the beginning of the night I had no idea what to do yet for the father/daughter dance or the mother/son dance so I grabbed Natalie and said, you have to do this one for me!!!! She picked both songs and they were perfect!! I honestly couldn't have done it better myself. It was so nice to know that I could just put it all in their hands and not have to worry about it.

We had so much fun with them!!! I seriously danced from the beginning until 1:00am!! I had so much fun!!
~ Nicole Frederickson -April 2008

---
We look forward to your Peanut performances - such a friendly and enthusiastic group! .....We will see you at your other venues as well - I'm bringing my church group to Paddy OQuigleys - see you there!! You guys are the bomb - thank you for putting it out there!

~ June Langham. April 2008
---
I wanted to thank you and all the members of the band for making "An Evening of American Sprit" a success. We have had nothing but great feedback on the company party. I know that it is all in a days work for you but I wanted to thank you again because I know the move in and out at the Liberty Memorial was not the easiest in the day light let alone in the dark. Thanks again for going the extra miles from the booking process to the event itself. You guys are great to work with and do a great show.
Kara Leodler
Meeting Planner
Kansas City Life
---
I got to check you guys out at Topeka's Frog's Live. Great talent and a rockin' playlist. And two hot lead singers!! Keep up the good work.

~ Gregg
---
You are by far the best local band we've ever seen... and all up close and interacting with the audience....yessssssss!! ~ Paul & Christy
You guys were great to work with and the community really loved you! Thanks for the great street dance.

~ Jerry Bolser
---
Saw you guys for the first time last night at the Levee and thought you were great. I plan on telling everyone I know, that if they hear only one dual-female fronted local band this year...make it Cherry Bomb...they ROCK!!
~ Robert
---
We were pleased to see you at the Levee with the KC Singles group...hope to see you again...had a blast...one of our favorite events with our group.

~ KC Singles
---
Always a great time and I love the spirit you all put into your music.

~ Scott
---
Posted on www.mulenews.com, Nov.4, 2005: ....Cherry Bomb is from KC with some former St. Joseph folks...they'll occasionally play here and tear the place apart.
Home | Meet the Band | Showtime | Gallery | Playlist | Weddings & Events | Grapevine | Links | Contact Us